GLAMADADELAIDE
Review: Fran Edwards
Ken Ludwig's fast moving farce, Leading Ladies, is Therry's latest offering, and it is all the things a farce should be; slick, over the top, far fetched and above all funny! Jude Hines direction is spot-on and uses Stanley Tuck's delightful set to full advantage. Sandra Davies' costumes flatter and allow the men to get away with cross-dressing without being too girly.
The unexpected tango, choreographed by Rose Vallen, was well executed and added to the hilarity. WE all know that laughter is the best medicine and I recommend you take a trip to the Arts theatre and get a big dose of merriment to fix what ails you. Read full review here
STAGE WHISPERS
Review: Lesley Reed
Even before the uniformly excellent cast hits their straps, Stanley Tuck's sumptuous and beautifully finessed set is enough to indicate this will be a quality production.

The comedy's first scene has fine impact too and sets the scene, with very good use of the auditorium and the apron of the stage, creating a 'travelling thespian' atmosphere that introduces Leo and Jack.
Jock Dunbar is wonderful as Jack Gable and as the young thespian's alter ego Stephanie. Dunbar has great comic timing and a great talent for physical comedy. Patrick Clements is maniacally marvelous as both Leo Clark and the raven-wigged Maxine. These two actors bounce off each other, just as an exceptional comic duo should.
Laura Antoniazzi plays Meg Snyder with a wide-eyed vulnerability that reminds me of a young Audrey Hepburn. Antoniazzi has great stage presence, excellent diction, does an effortlessly perfect American accent in this production and is an actor to watch out for on the Adelaide stage. An excellent performance.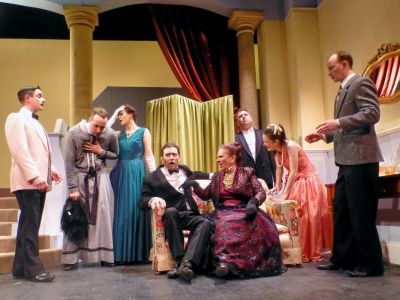 Mollie Mooney is a roller-skating delight in the zany role of Audrey and is another young actor making her mark.
Steve Marvanek performs the difficult role of stuffy, controlling Duncan Wooley very well, ensuring a strong foil for the madcap antics occurring in the household.
Tim Blackshaw as Doctor Meyers and Aled Proeve as Butch Meyers/ Moose Frank provide some hilariously comic moments, as does veteran performer Penni Hamilton-Smith as the dying dowager. They ham it up to the hilt.
Costumes are excellent and a perfectly choreographed tango, courtesy of Rose Vallen, is another of the delicious touches in this excellent farce.
Therry is on a winner with Leading Ladies and audiences are guaranteed a raucous and rib-tickling comedy experience they won't forget in a hurry.
Ken Ludwig's Leading Ladies exploits every trick in the book
A COUPLE of terrible but nonetheless enterprising actors, touring the backwaters of Pennsylvania, hear of a vast legacy going begging to the long-lost relations of an elderly heiress. That the relations are women is no problem for these noble thespians, who get the Cleopatra and Titania costumes out of their Shakespearean trunk and present themselves to the startled residents of York, Pa.
They are the Leading Ladies of Ken Ludwig's 2004 crowd-pleaser of the same name.
Every trick in the book is fully exploited in this hoary story, especially the comic potential associated with country bumpkins falling in love with the startlingly glamorous visitors, who find themselves in turn drawn to the fairer citizens of the town.
Therry had a big hit with Ludwig's Crazy For You and the new production seems sure to repeat it. Patrick Clemens has a field day as the supremely confident Leo Clark, a confidence which he carries across faultlessly to his alter-ego Maxine, while Jock Dunbar is his perfect foil as the reluctant Jack Gable, and the winsome Stephanie.
The supporting cast throw themselves in feet first, led by Penni Hamilton-Smith asAunt Florence, and with a few terrific cameos, notably Aled Proeve's very funny MC from the local Moose Lodge.
Leading Ladies is wafer-thin, but then again, wafers are rather nice.
Arts Theatre
Until November 12
Adelaide Theatre Guide review by Fran Edwards

Once every so often a production of a musical comes along that makes you realize that magic happens if the conditions are right. Of course it takes a good production team, one with vision, a cast that can understand and interpret the writer's dream and lots and lots of talent. Big Fish is one such show.

Therry has assembled a terrific team, Amanda Rowe as director, Mark DeLaine as MD and Kerry Hauber as Choreographer. Add to that Jason Groves lighting design, Tim Freedman (Allpro Audio) designing sound, Andy Ooyendyk as scenic artist, and an incredible team building the set and you have a basis for a great production.

Then you have the cast. Much of the success of the production lies with the characters of Edward Bloom and his son Will, both played expertly by Andrew Crispe and Lindsay Prodea. Edward needs to be larger than life, but this only works if he is contrasted with the strength of Will's unbending reliance on truth, something he thinks his father can't tell.

These may be two outstanding cast members but so much other talent supports them. Rebecca Raymond as Edward's wife Sandra, Kate Hodges as Will's wife Josephine, Josh Barkley as Don Price (Edward's rival) and Oscar Bridges as the young Will. And then there are the fantasy characters in Edward's stories: Trish Hart as the Witch, Scott Nell as a very convincing giant, John Rosen as the showman and Megan Langford as Jenny Hill, Edward's other love.

The ensemble is filled with familiar faces who do a brilliant job and the very good orchestra similarly had recognizable names such as Emma Knights, Gordon Combes, Nicole Molloy, Paul Hampton –Smith and Corrine Teng to mention a few.

I could continue to rave, but I suggest you buy a ticket and see for yourself before they sell out.
Stage Whispers review by Benjamin Orchard
Music & Lyrics by Andrew Lippa. Book by John August. The Therry Dramatic Society. Directed by Amanda Rowe. The Arts Theatre, Adelaide. 9-18 June, 201.
The Therry Dramatic Society's latest production is an enchanting fable that explores many deep and thought provoking themes - ageing, mortality, generation gaps, the quest for identity, the sacrifices required to ensure that love endures, the conflict between history versus mythology and the value of storytelling – thorough the prism of a fantastical hero's journey that joyously illuminates the absurdities of life. Big Fish is arguably the most accomplished work of musical theatre to have been staged in Adelaide during the last five years.
Ed Bloom (Andrew Crispe) is a living embodiment of The American Dream, a travelling salesman who spends his youth wandering the vast splendour of The Big Country, having many grand adventures. These include rescuing a mermaid (Ashlyn Wright) afflicted with a dark curse, saving a small town that quakes in fear of a temperamental giant (Scott Nell) and joining up with a circus run by a werewolf (John Rosen). All of this before distinguishing himself as a hero in World War II and romancing the most beautiful woman in the whole world (Rebecca Raymond).... well, that's the way Ed tells the story of his life, anyway... Ed's journalist son, Will (Lindsay Prodea) is sceptical of his Dad's tall tales about the glory days and resolves to find out the truth, before the old man dies of cancer.
All musicals contain an element of surrealism, but the magical and the mundane intertwine more seamlessly in Big Fish than in most shows, to the point where it is not always clear where one ends and the other begins. This could easily prove frustrating to those who prefer a story with a straightforward beginning, middle and end, or one with a clearly defined sense of internal logic. But if you are willing to surrender to the dreamlike flow of this show then it has many charms to offer.
The boldy colourful sets and costumes contain a well-proportioned mix of the otherworldly and familiar, which fits perfectly with the story's "magic-realism". The eerily atmospheric lighting cues and deliberately off-kilter choreography also contribute to blurring the lines between the realms of fantasy and reality, in a manner that is often downright mesmerising to behold. But director, Amanda Rowe, never allows spectacle to detract from the human element of the musical, her sensitive blocking of scenes ensuring that both the laconic wit and poignant home-truths in the dialogue are given space to shine.
The cast embody these characters with technically impeccable singing, razor sharp comic timing, sometimes dizzyingly nimble footwork and a gloriously impassioned flair for drama. The ENTIRE cast, mind. From the leading players to the smallest bit parts, everyone on stage gives 110% in service of the story. To single any one individual out for praise over another strikes this critic as unfair, as far as I'm concerned, everyone treading the boards in Big Fish scores a perfect 10… (the names I haven't mentioned already – Fiona Aitken, Jemma Allen, Jillian Arthur, Blake Ascione, Josh Barkley, Oscar Bridges, Raymond Cullen, Michelle Davy, Nic Equid, Emily Fitzpatrick, Holly Fennell, Jared Gerschwitz, Heath Gladigau, Trish Hart, Kate Hodges, Megan Langford, Toni MacAdam, Mackenzine Price, Wendy Rayner, Andy Trimmings, Michael Preston Ward, Scott Whellum, Sarah Wildy – all have amazing moments, taken collectively this cast is an embarrassment of riches).
If Big Fish has a flaw, it's that many of Andrew Lippa's songs lack a strong hook. There aren't many hummable tunes in the show that are likely to linger in your mind long after seeing it. On the other hand, nothing sticks out as being obnoxiously awful either and Lippa makes skilful use of underscoring, ensuring that the transition from speech to song is always smooth.
Therry ought to be applauded for taking a risk with unfamiliar material, especially when it pays off so handsomely as this. Big Fish is a must-see event for all truly adventurous musical theatre buffs.
Glam Adelaide review by Nathan Quadrio
There must be something new in the water in Adelaide with companies producing a string of high quality productions in recent months. Therry's production of Andrew Lippa's Big Fish, following the father-son story of a man whose tales are larger than life, is no exception. The stellar cast and crew work together beautifully to traverse this complex and multi-faceted show.
Big Fish is a complicated show that spans two timelines and a multitude of locates. Amanda Rowe's direction keeps every transition seamless as the cast expertly move the set to brilliantly represent each of the show's multiple locations. In conjunction with Jason Grove's lighting design, this dream-like set stunningly represents the tone of the show.
Potentially the most demanding portion of this show is its richly drawn characters and the cast is more than up to the challenge The flow between the past and present storylines, as actors magically switch from old to young, is most impressive.. Andrew Crispe is completely flawless as Edward Bloom with a stunning voice and charming characterisation. From the second the curtain opens to the last note of the finale, Crispe delivers every element of his performance perfectly. As his wife, Sandra, Rebecca Raymond shines – almost brighter than Crispe. Her voice is stunning and her song I Don't Need A Roof in Act 2 is a heart-wrenching highlight.
In the role of Will Bloom, Edward Bloom's son, Lindsay Prodea performs well. He acts well but his voice appeared to struggle with his Act 1 solo, Stranger – this could potentially be due to sickness. Luckily this was short lived and his voice soared through the second act. Kate Hodges seems sadly underused as Will's wife Josephine but she delivers her limited dialogue strongly.
In smaller roles, Scott Nell, Trish Hart, John Rosen, Josh Barkley and Megan Langford all sing and act well. They are supported by a fantastic ensemble, a number of whom take on little roles along the way. Kerry Hauber's choreography is infrequent, but spectacular and tightly drilled when it does appear. The Witch Sequence was particularly effective – working in well with Sandra Davis' solid costuming.
Mark DeLaine keeps the band under a tight baton, perfectly accompanying the pitch perfect harmonies of the cast. The work of the crew should also be noted as they keep the show rollicking along fantastically. A few small cues were missed, but in a production of this magnitude that is completely forgivable.
The team behind Therry's Big Fish is incredibly well-drilled and incredibly talented. Productions like this raise the bar for amateur theatre and crash through the barrier between them and the professionals. Don't miss it!
Barefoot Review review by David Grybowski
Big Fish is big business in so many ways. The story has its origins in Daniel Wallace's 1998 novel. Then it was a Tim Burton film in 2003 and finally we see here the Broadway musical of 2013. Therry puts on a big show with a cast of 28 and easily triple that including the creative and production teams and the orchestra. The set (design uncredited) is a work of modern art. And there is a cornucopia of extravagant characters. (The action takes place mainly in some previously unheard-of part of small town Alabama where black Americans are not extant.)
Being new to the story, I had no idea what was going on for the first 20 minutes and I loved it! A knee-slapping dance caused fish to fly out of the river. Then there is some witch foretelling the future of our hero, Edward Bloom, a la Macbeth. There is a bit of normalcy and then Bloom entices a giant out of a cave. And yes, there is a giant on stage! You learn that anything can happen in this show, as these scenes are manifestations of Bloom's imaginative parables. Turns out to be a very sweet intergenerational story and at the centre of the intrigue are the source of Bloom's fantastical stories and a son searching for his "real" father.
Actor Andrew Crispe very successfully invests Edward Bloom with goodness and country-style domesticity. His song, Fight The Dragons, playfully rendered with child star Oscar (someday winner) Bridges as Young Will, his son, was one of my favourites for recalling a young'un's yearning for adventure, and for father-son bonding. Rebecca Raymond plays Edward's wife with equal veracity and wonderful voice. Bravo! Lindsay Prodea's Will Bloom spent a lot of time with a furrowed brow and annoyed with his father. He maybe should stick to the river of the play, as he was wobbly on the high Cs. Scott Nell was a wonderfully gentle giant - great deep voice and skillfully dancing on stilts. What a costume! There's a lot more - a mermaid, an entire circus full of performers, assassination attempts by blow darts, nothing is too far out.
The creative team comprising director Amanda Rowe, musical director Mark DeLaine, choreographer Kerry Hauber and lighting designer Jason Groves whipped their cast and crew into a proper good night out. There is evident a fantastic team effort to create the costumes and sets for a great number of very different outlandish situations. And did I mention Sandra Davis for costumes? Bravo!
Barefoot Review (opens in new window)
Stage Whispers (opens in new window)
Broadway World (opens in new window)
Glam Adelaide (opens in new window)
Adelaide Theatre Guide (opens in new window)
Death of a Salesman Reviews
"Moving, heartfelt and thought-provoking …
Director Sue Wylie stays true to the core of the story whilst transforming the respected narrative into a means of self-reflection. She has done an exceptional job, as she takes on a profound text that can be difficult to pull off."
Georgina Tselekidis, Weekend Notes
"This fine performance deserves full houses every night; you will not see as good a production of this play for a very long time."...
Fran Edwards, Glam Adelaide
"I don't think anyone who sees it will be disappointed. This is a first-rate production."
Janice Baily, Adelaide Theatre Guide
"Therry has a strong production with some excellent performances. Death of a Salesman is a passionate and powerful play which is tricky to stage given its switching time and dream states, but Sue Wylie has done a solid job in bringing it to life."
Shelley Hampton, Stage Whispers